SELECT DISTINCT shop_view_active_item.*
							FROM shop_item_has_category
							  INNER JOIN shop_view_active_item ON (
							    shop_view_active_item.company = shop_item_has_category.company AND 
							    shop_view_active_item.shop_code = shop_item_has_category.shop_code AND 
							    shop_view_active_item.language_code = shop_item_has_category.language_code AND 
                                    ( 
                                      shop_item_has_category.item_no = shop_view_active_item.item_no 
                                    )
							    )
							  
							  WHERE (shop_item_has_category.category_line_no = 118750 OR shop_item_has_category.category_line_no = 116875 )
							  AND shop_view_active_item.language_code = 'ENU'
							  AND shop_view_active_item.company = 'DESOI'
							  AND shop_view_active_item.shop_code = 'B2B'
							  AND shop_item_has_category.company = 'DESOI'
							  AND shop_item_has_category.shop_code = 'B2B'
							  AND shop_item_has_category.language_code = 'ENU'
							  AND shop_item_has_category.category_shop_code = 'B2B'
							 

B-Profile®
Adaptable injection profile for sealing leaking expansion joints

The B-PROFILE® with integrated rubber sealing lips is suitable for subsequent sealing of leaking expansion joints by means of injection. It simplifies the work process and reduces the time required compared to conventional methods. The B-PROFILE® can be processed in any length and can be used several times after cleaning.
Minimal invasive - maximal Effective

SUBSEQUENT AND CUSTOMISABLE SEALING OF LEAKING EXPANSION JOINTS
Injection of the movement joint is carried out after mounting the B-PROFILE
®
and inserting the joint injection needle. When the joint injection needle is screwed into the B-PROFILE
®
, no material is removed; the lateral outlet holes of the joint injection needle remain clean and a free flow of the filler is guaranteed.
The solid material of the B-PROFILE
®
surrounds the joint injection needle, thus holding and sealing it at the same time. The integrated sealing lips of the joint rubber ensure an impermeable connection to the component, the rubber adapts exactly to the unevenness.
After successful injection, the B-PROFILE
®
is removed.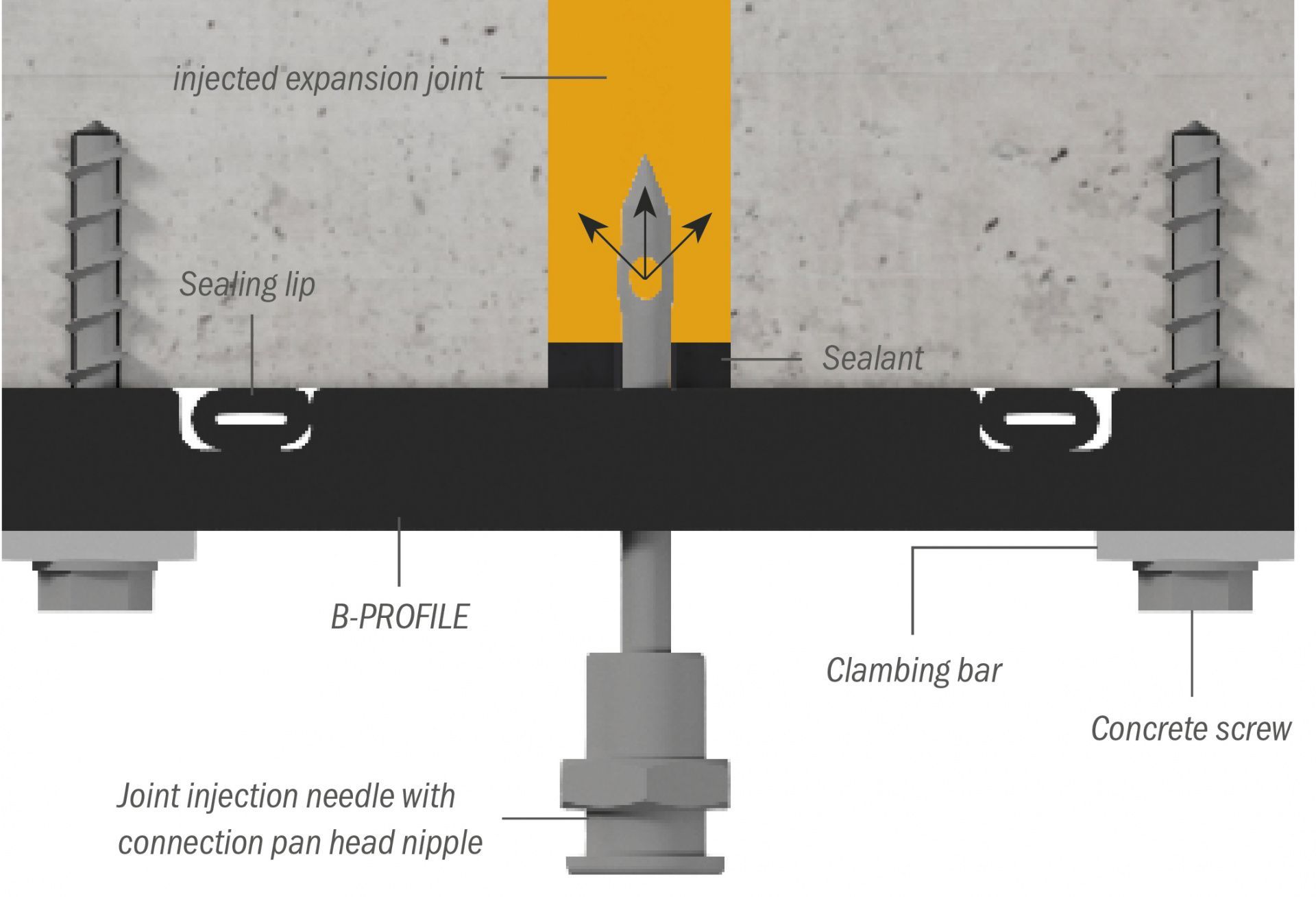 Example: Temporarily installed B-PROFILE®
ADVANTAGES
Time-saving and safe assembly - no edge chipping
No formwork: simple and fast installation and essential reduction of the otherwise necessary traffic restrictions
Universally applicable - suitable for almost all joints with a joint width from approx. 5 to 50 mm
B-PROFILE® adapts exactly to the building component
No material removal when the joint injection needle is screwed into the B-PROFILE®
Very good sealing due to the joint injection needle in combination with the B-PROFILE®
Reusable
TYPICAL AREAS OF APPLICATION
All waterproof concrete structures with joints
Pedestrian subways
Utility ducts
Control passages in hydraulic structures or bridges
Tunnels in open and closed construction
Underground car parks
FILLING MATERIALS
Mineral materials e. g. fine cement,
filling mortar up to grain size Ø 1 mm
Polyurethane resin

B-PROFILE adapts exactly to the component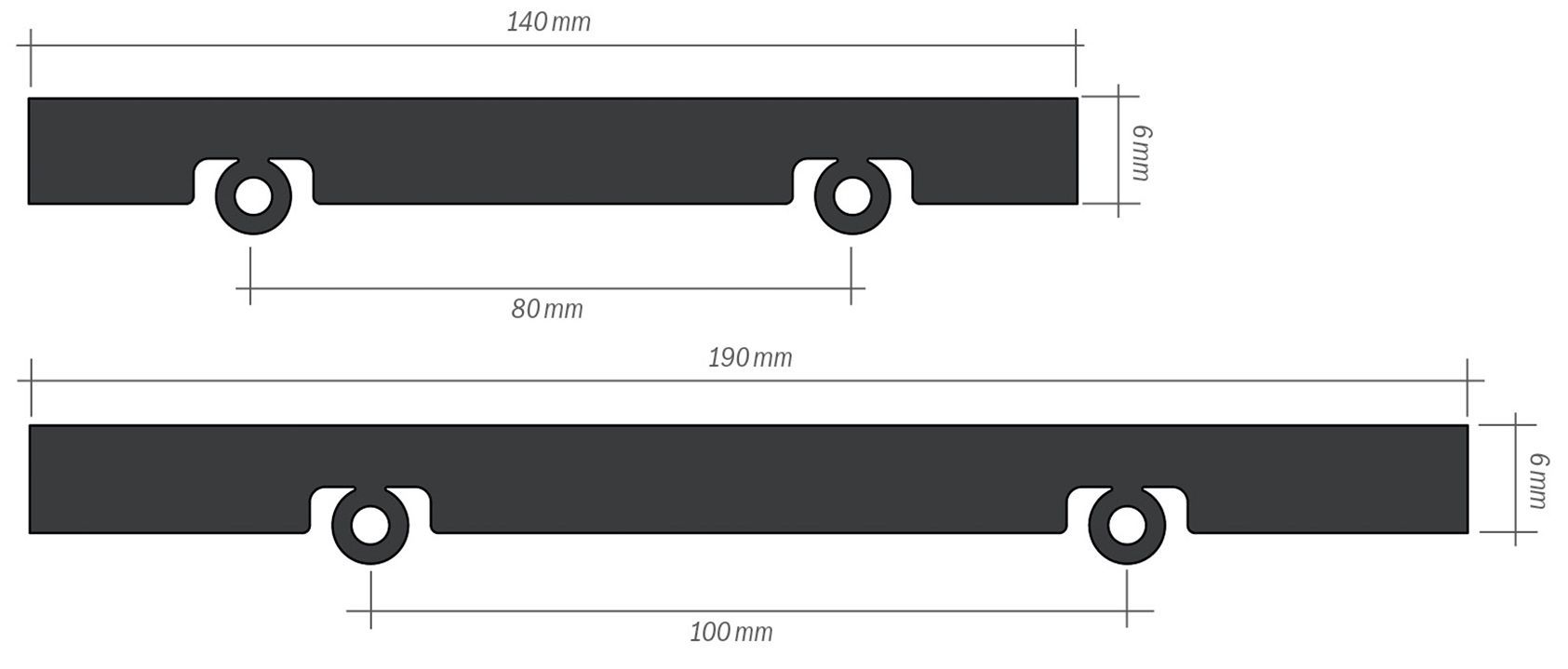 PREPARATION
Cut the B-PROFILE® to the desired length, e. g. with a jigsaw
Spray with silicone spray to prevent the B-PROFILE® from bonding with the filling material
Place in the centre of the expansion joint with the sealing lips facing downwards
Mounting
Place the clamping bars on the profile
Using the hammer drill Ø 5 mm, pre-drill the first and last hole of the clamping bar through the B-PROFILE® and the concrete
Using the cordless screwdriver (and socket wrench no. 25010), lightly screw in the concrete screws and fix the B-PROFILE, then tighten firmly
Pre-drill the remaining holes in the clamping bar and tighten them firmly with the concrete screws
Insert the joint injection needle at a distance of approx. 0.5 m with the cordless screwdriver (no. 25014)
INJECT / REMOVE
Start low pressure injection
Remove the B-PROFILE after the filling material has hardened