SELECT DISTINCT shop_view_active_item.*
							FROM shop_item_has_category
							  INNER JOIN shop_view_active_item ON (
							    shop_view_active_item.company = shop_item_has_category.company AND 
							    shop_view_active_item.shop_code = shop_item_has_category.shop_code AND 
							    shop_view_active_item.language_code = shop_item_has_category.language_code AND 
                                    ( 
                                      shop_item_has_category.item_no = shop_view_active_item.item_no 
                                    )
							    )
							  
                                 -- LEFT JOIN shop_permissions_group_link ON shop_permissions_group_link.item_no = shop_view_active_item.item_no
    		  														-- AND shop_permissions_group_link.company = shop_view_active_item.company         
							  WHERE (shop_item_has_category.category_line_no = 115000 OR shop_item_has_category.category_line_no = 115000 )
							  AND shop_view_active_item.language_code = 'ENU'
							  AND shop_view_active_item.company = 'DESOI'
							  AND shop_view_active_item.shop_code = 'B2B'
							  AND shop_item_has_category.company = 'DESOI'
							  AND shop_item_has_category.shop_code = 'B2B'
							  AND shop_item_has_category.language_code = 'ENU'
							  AND shop_item_has_category.category_shop_code = 'B2B'
							 

DESOI Quick Seal – Tætnings- og injektionsprofil
Med det nye system kombineres to procedurer i ét produkt for pålidelig tætning af ekspansions-, konstruktions- og bevægelsesfuger. Således kan der garanteres en sikker fugesanering eller genforsegling af vandtætte betonkonstruktioner. Den fleksible, forseglings- og injektionsprofil i syv segmenter indsættes i den beskadigede fuge, fastgøres og tilbagepresses med et byggekemisk fyldstof. Tætnings- og injektionsprofilen er delbar og er egnet til fugebredder fra 18 til 26 mm.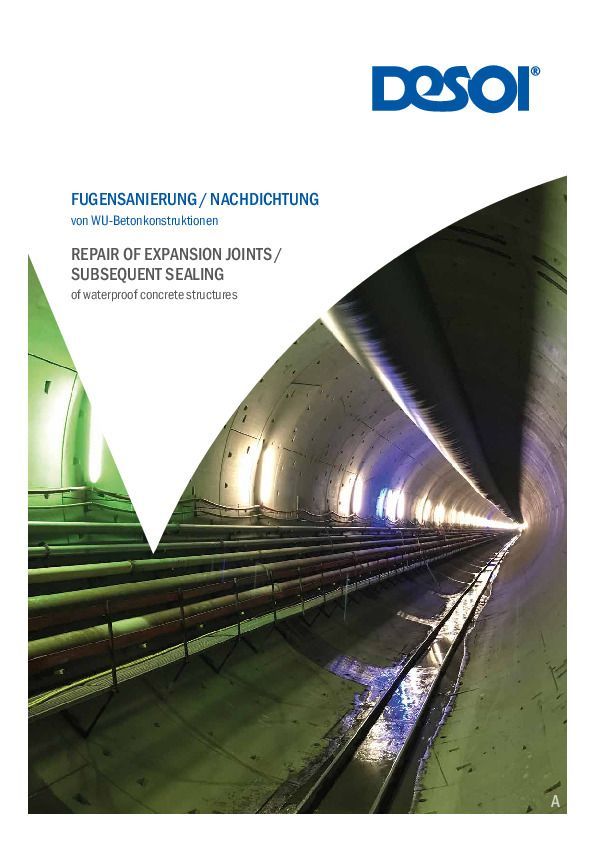 En kombination af DESOI Quick Seal og den rektangulære stålnippel

Fordele
Sikker fugetætning
Tidsbesparelse – ingen boring
Ingen knækkede kanter
Bevægelige, variable segmenter – enkel, hurtig montering
Kan forkortes individuelt (300 mm efter hvert segment)
Min. 18 mm – maks. 26 mm fugebredde
Montering
Indsæt det første segment af DESOI Quick Seal i den utætte fuge, og spænd spændemøtrikkerne såvel som spænde- og injektionsrøret fast med en skrue-/boremaskine (topnøgle). Dette presser tætningsprofilen sammen (elastisk), og fikserer den i fugen. Følg samme fremgangsmåde med de andre segmenter.
Når alle segmenter er monteret, skrues fladnippel M6 på spænde- og injektionsrørene.
Forsegl eventuelle mellemrum med rektangulære stålnipler – indsæt i fugen og fikser med en spændeknebel.
Start injektionsprocessen
DESOI Quick Seal - installation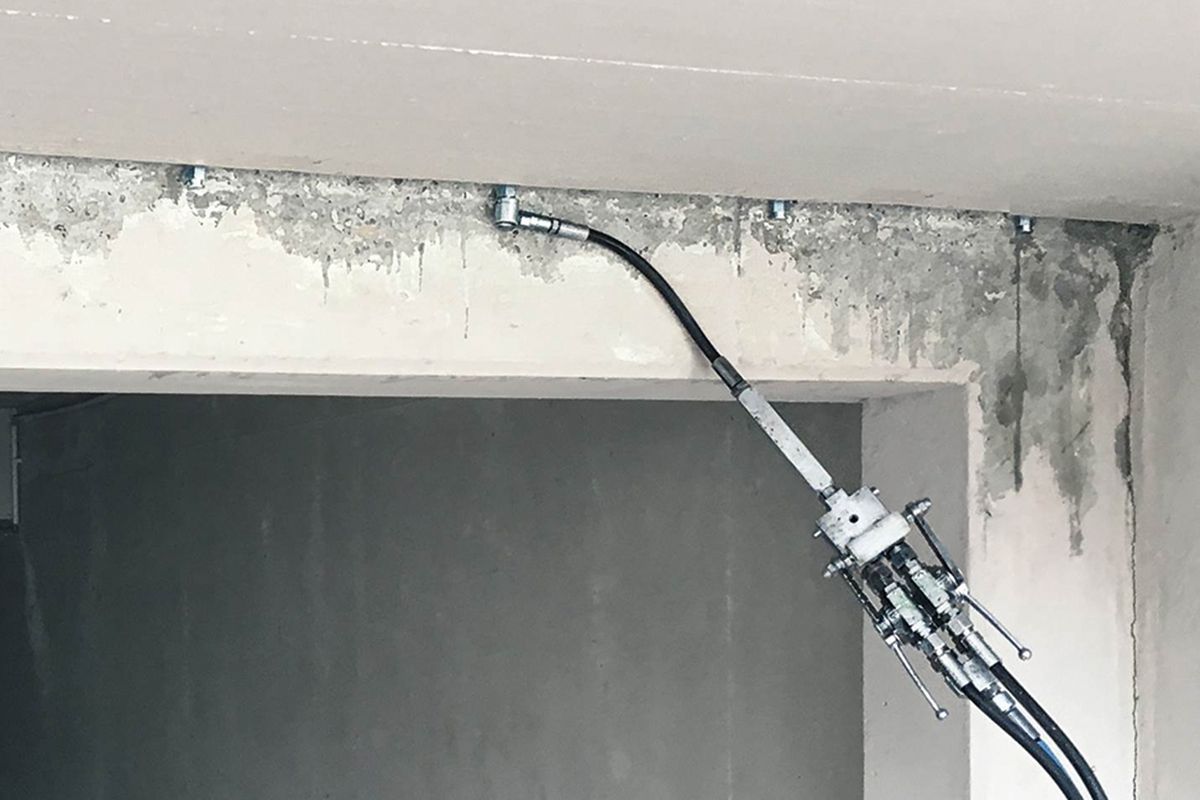 Injection of chemical filling material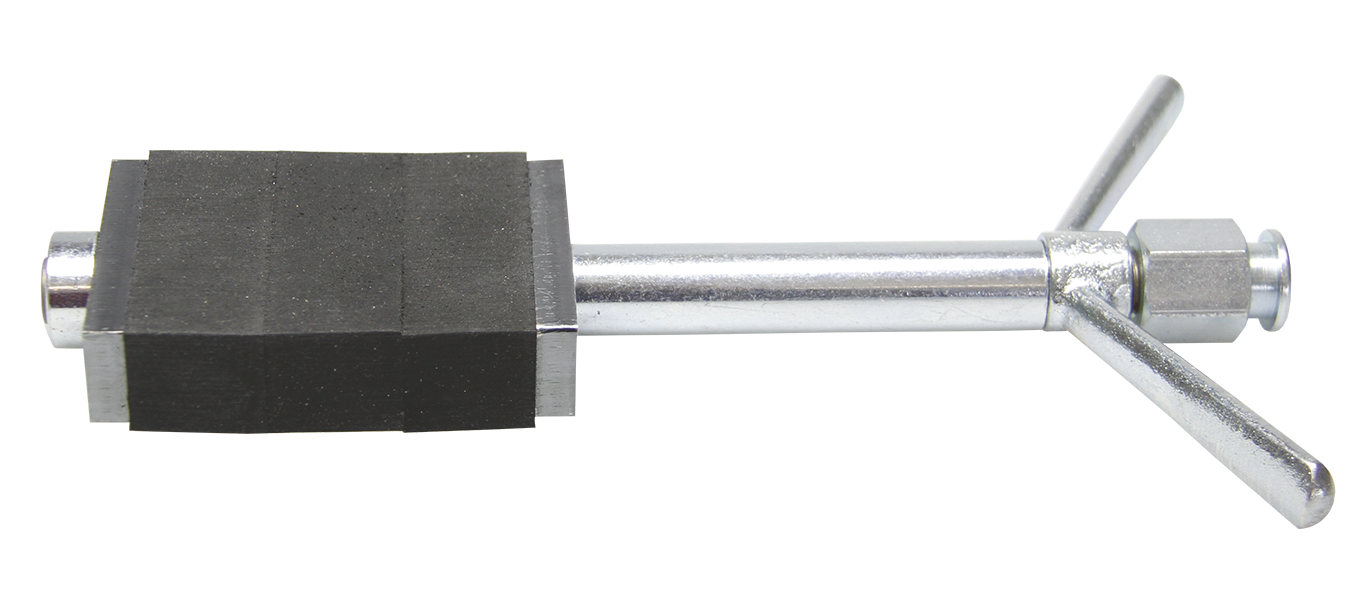 Fordel/bemærkning
Tidsbesparelse – ingen boring
Ingen knækkede kanter
Udfyldning af små huller
Ingen borekanaler efter injektion
Bemærk
Den rektangulære stålnippel bruges til at lukke mellemrum, der kan opstå som følge af forskellen mellem fuge- og segmentlængder.